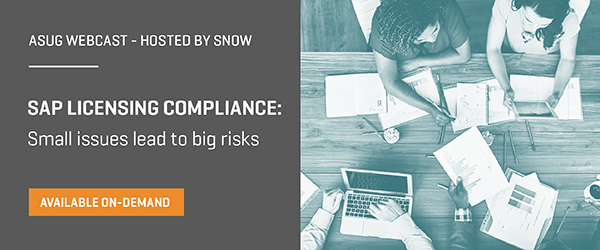 Sponsored by: Snow Software
When facing an SAP audit, it is crucial for companies to have transparency and visibility in order to actively optimize, control and manage their SAP deployments.
SAP licensing is complex, and often leads to significant unplanned costs ranging from multi-million-dollar audit findings to unbudgeted annual maintenance payments on unused licenses or software.
In this webcast, Burton Culley and David Morrison of Snow Software will share insights around some of these challenges, and how you can take back control of what is most likely your largest enterprise software investment. You will learn how to gain insight and control into your SAP landscape, resulting in significantly improved financial cost control and avoidance of legal liabilities from both direct or Indirect Access. Along the way you will also learn how to avoid paying for assets that are not utilized.
Speakers:
David Morrison, Senior SAP Consultant, Snow Software
Burton Culley, Senior SAP Consultant, Snow Software
Want to watch this webcast? Become a member and get access to all ASUG benefits including news, resources, webcasts, chapter events, and much more!