The fifteenth annual ASUG Experience for Enterprise Information Management (EIM) will take place in Minneapolis Oct. 28–30. EIM professionals coming in for the conference will learn about the newest SAP solutions for EIM, network with other professionals, and pick up tips on how to succeed in their roles and within their organizations. Beyond all the learning and networking, attendees are in for a treat while visiting my city—which, by the way, is also the largest city in Minnesota.
The City That Flows
I'm not talking about the flow of data, although there will be much to take in about that. In addition to being located on both banks of the Mississippi River, Minneapolis is home to numerous lakes, creeks, wetlands, and waterfalls. They don't call Minnesota the Land of 10,000 Lakes for nothing. During your visit, I recommend taking the opportunity to see some sights, eat well, enjoy nature, and maybe even do some shopping.
If you're coming in for the ASUG Experience for EIM, first plan your conference and then plan your visit. Here are some tips on how to do just that.
Tip 1: Pack for Autumn in the Midwest
There is so much to do in and around Minneapolis that you don't want to limit yourself to just your conference gear. Make sure to check the forecast because temperatures can dip in October. Beyond packing for the weather, pack for the occasion. This is the city of walking, biking, golfing, drinking beer, and so much more. If you do forget to pack something appropriate, you'll be happy to know that you can buy clothes tax-free in Minnesota! You can even get them at the flagship Target store that's part of the Target headquarters and just a few blocks away from the conference.
Tip 2: Get on a Trail
When in Minneapolis, you are never more than six blocks away from one of the 197 parks our great city has to offer. Whether you're a cyclist, runner, or leaf looker, there is a trail for you. You can rent a bike through one of the many Nice Ride Minnesota stations, which are located right around the corner from the Radisson Blu Minneapolis Downtown on South 7th Street or a few blocks away on the pedestrian-only street, Nicollet Mall. Or you can pick a park with exceptional scenery such as Grand Rounds Scenic Byway System or the Minneapolis Sculpture Garden, which is home to more than 40 sculptures surrounded by nature—including the memorable Spoonbridge and Cherry. If you're more into watersports, visit the Chain of Lakes, which includes five of the largest lakes in Minneapolis, and rent a canoe or kayak if it isn't too cold yet.
Tip 3: Grab a Bite, Stay for the Taste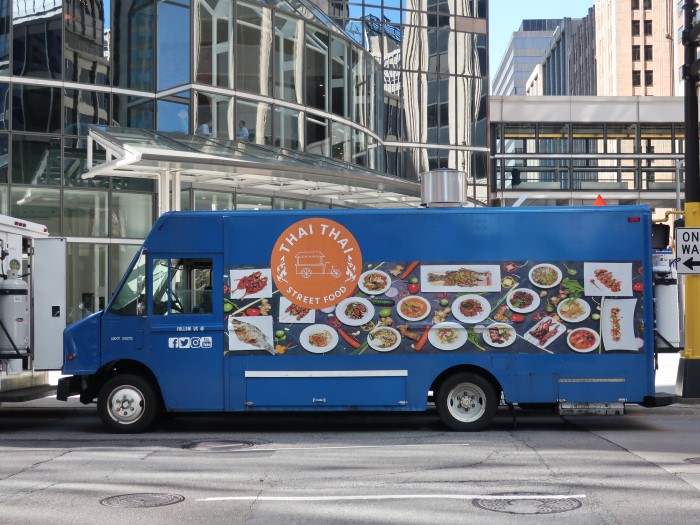 People may know Minneapolis for its Juicy Lucy burgers, but we've got much more to eat than those. This city has a dynamic and diverse food scene that takes advantage of local ingredients including James Beard Award winning spots such as The Bachelor Farmer, 112 Eatery, and Spoon and Stable or more approachable spots along Eat Street. There's even a parade of food trucks that line up during the week on 2nd Avenue South between 4th and 6th Streets to feed hungry office workers. But hey, if a Juicy Lucy is what you're looking for, go try one from both Matt's Bar and from the 5-8 Club. Then pick a side, because the rivalry is real.
If you're a beer lover, there are plenty of spots to enjoy a local brew. One of the favorites is Surly, which you can enjoy at the Surly Brewing Company Beer Hall with some pizza. A bit closer to downtown you'll find some relaxed establishments to enjoy your favorite microbrew or import, including Brit's Pub, which has a lawn bowling court on its roof, or The Local, a cozy Irish pub.
Tip 4: Getting Around
Most of what you'll need—fine dining, quick bites, shopping, parks, and much more—will be within walking distance of the conference, held in the heart of downtown Minneapolis. But if you want to venture out a bit further, you've got options for getting around. Minneapolis is a big fan of bicycling and is ranked as one of the best biking cities in the country. If it's too cold to cycle, you've got other options such as light rail and buses, or rideshare services such as Uber and Lyft. But downtown Minneapolis is a city where you can see a lot by walking everywhere.
Tip 5: #Instagram Worthy Stops
Minneapolis has its share of must-see attractions that are Instagram-worthy. Just to name a few, we've got the Mill City Museum, where you can get some selfies with the mighty Mississippi while you learn about the city's history as the nation's flour mill and bread basket. We've also got Minnehaha Park, which is one of the oldest parks in Minneapolis as well as the home to a 53-foot waterfall. You can put on your finest purple gear and make your way to Prince's Paisley Park, which is now open to public tours. Or, you can take a trip down to the Mall of America and buy some tax-free clothes after taking a ride on the indoor roller coasters. Don't try to go to every store, though, because it would take you 86 hours to visit each one for only 10 minutes.
Whatever you decide to do while in Minneapolis, I hope you come to learn and have fun. We look forward to seeing you in the fall.
Register for the ASUG Experience for Enterprise Information Management (EIM) Oct. 28–30 in Minneapolis to learn from peers how to manage your data and meet business goals. Additionally, we welcome all ASUG members to submit their ideas for blog posts they want to write.