February was our Integration month for our ONE.Source community as we looked at multiple approaches to meeting your SAP Business One integration needs. Our Subject Matter Expert, Richard Duffy, shares his opinions on integration options, as well as recent insights he has gained.
While February may be in the rear view, the insights and discussions of our Integration month stayed with me throughout March. After answering some follow-up questions and continued conversations within our community, it has become increasingly clear to me that integration is definitely not a "one size fits all" topic.
Reviewing Our Integration Insights
First, a quick review of our Integration month webcast series:
In my Ask the Expert session, I gave my twenty-minute overview of SAP's integration options and introduced you to a few partner solutions.
We had an excellent customer story from Heat Transfer Research, Inc., detailing its projects and experience with the Service Layer. (We hope to build on this with more lessons from HTRI later in the year. Stay tuned.)
Our monthly cadence with SAP took a deeper dive into the full range of integration options from SAP, from text-based importing with the Data Transfer Workbench (DTW) through to the SAP Business One Integration Framework (B1i) and the SAP HANA Service layer.
Finally, we looked at new partner solutions from Alluvia to meet your integration needs without the traditional costs or complications.
Within that series, we covered many different options and approaches to meeting each customer's unique integration needs. In addition to the options that we covered, there are other partner solutions as well as some recent developments from SAP. Again, my primary takeaway is that integration is not "one size fits all," so let's dive into some of my opinions after some further review of the market.
Personal Experiences with Alluvia
I have now worked on two integration projects with Alluvia, linking WooCommerce websites and SAP Business One deployments. After these experiences, I am convinced that Alluvia is a great solution and their delivery, deployment, and pricing model is a winner.

Versago and Bizweaver from Third Wave Business Solutions
However, as part of a couple of other projects, I spent a significant amount of time reviewing both BizWeaver and Versago from Third Wave Business Solutions. After reviewing both these solutions, I came away with a better understanding of each solution and where they fit.
Versago
For example, many SAP Business One users are looking for self-service portals that allow customers to come online and access their accounts, process payments, and quickly push through orders; Versago is a great fit for this scenario.
However, when it comes to the user interface, it does look a little "old school" for my tastes. Having said that, in B2B scenarios, look and feel is less important than usability and speed; Versago meets both those criteria. It delivers a number of the common self-service scenarios out-of-the-box and is a good choice for customers that want a quick-to-deploy solution.
Bizweaver
Bizweaver is a more traditional integration engine with a business process modelling and workflow designer that allows consultants to build their own integration flows. With these kind of tools, the user experience tends to be very similar.
The big difference is how easily the developers have made it to work with the SAP Business One SDK and DI-API objects (the fundamental back end for integration to SAP Business One). Bizweaver is very familiar in its approach to Micosoft's BizTalk Server and its design tools.
Partner Solutions versus B1i
Bizweaver and Alluvia are certainly a major leap ahead of what SAP are delivering with the current release 1.x of B1i. As much as I want to, I still find it hard to point people to B1i, as it is a very idiosyncratic and developer-oriented UI. If you have built a skill set in B1i, you have my admiration, as it is not the easiest product to learn and support. However...
SAP Is Stepping Up with the New Version 2.0 of B1i
During the time I spent developing this blog post, I had the opportunity to meet with three of the key people behind B1i. After my conversation with them, I think I am in the process of changing my view on the solution based on what they shared with me and what I saw at the SAP SMB Innovation Summit (event for the SAP Partner Ecosystem) in Ho Chi Minh City. With version 2.0 of B1i, I suspect B1i is about to leapfrog the competition.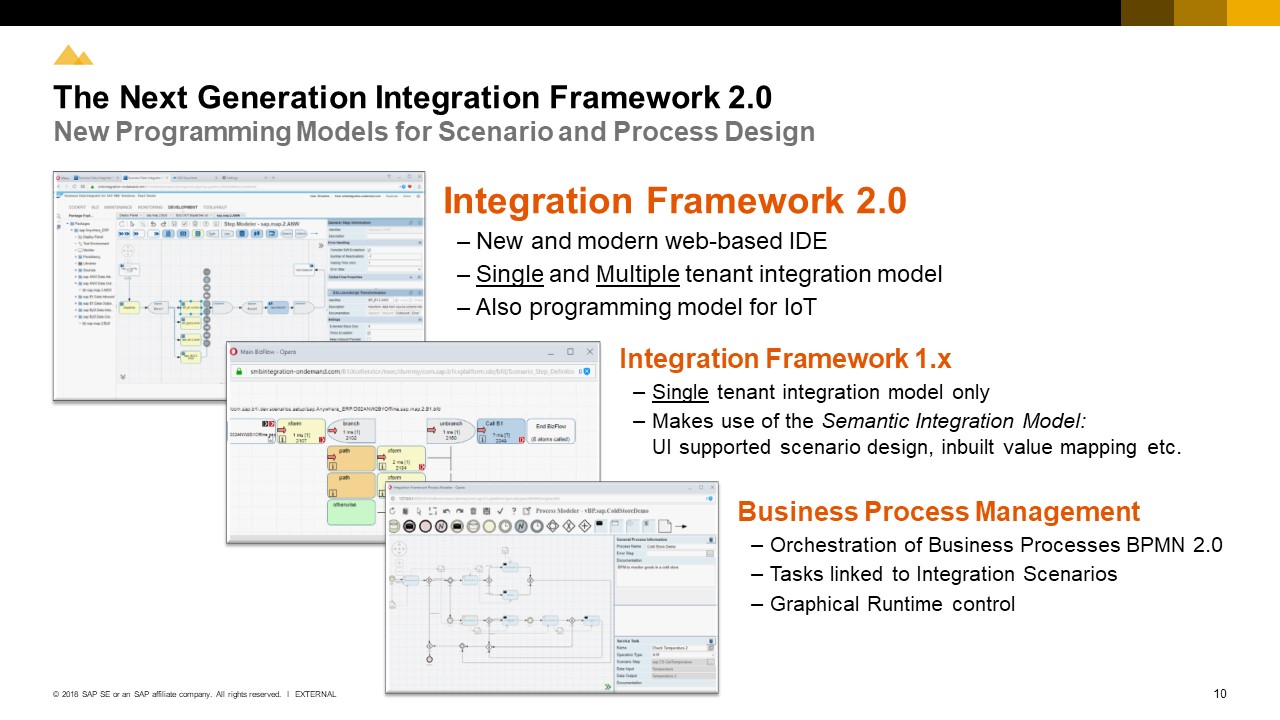 Screenshot by Richard Duffy
Bottom Line for B1 Customers
As things stand today, my preferred integration approach would be a great combination of tools: likely Alluvia for template-based integration with e-commerce solutions (WooCommerce, Magento, Shopify, as well as eBay and Amazon) and Versago for the self-service platform.
However, don't mistake my preferences for my central thesis: one-size does not fit all. You need to go with the options that best fit your business needs (not to mention your budget). I recommend you research and explore the available options from SAP as well as Partners, and discuss those solutions with your Partner.
For those customers who have found their right integration approach, we want to hear from you. Share your lessons learned and detail your approach for our ONE.Source community. While Integration month may have ended, I hope our conversation can continue.
P.S. I am in the process of writing up a dedicated post on B1i, based on my discussions at the SMB Summit. As always, stay tuned.