Throughout the month of January, our community has explored a focus on logistics. By now, you have already had the opportunity to gain some insights into logistics best practices, to hear from SAP, and to learn about complementary solution developers like Produmex and WiSys.
I have good news. We have now added a bonus Logistics month webcast for our community. On Feb. 14, hear from SAP Business One customer OCuSOFT, Inc. on their business transformation. Their story includes a complete overhaul of their processes due to a growing business and a warehouse distribution system that could no longer meet their needs. I hope you will register and attend this great session.
Now, as our logistics month wraps up, let's return to where these conversations usually begin. The most popular customer question—and the core of our focus for ONE.Source—is always, "What can I get from my existing solution and am I using it to the best of its built-in capabilities?"
The Core Functionality of SAP Business One Logistics
To answer that question, you first need to understand what the capabilities are, so let's look at what you have with the core application. The core customer-facing process of Pick, Pack, and Ship is a great place to start.
The sales process in SAP Business One is nicely represented in the Workbench widget feature, part of the SAP Business One version for SAP HANA, and is particularly useful when getting the big picture of the steps of the sales cycle that are delivered out of the box.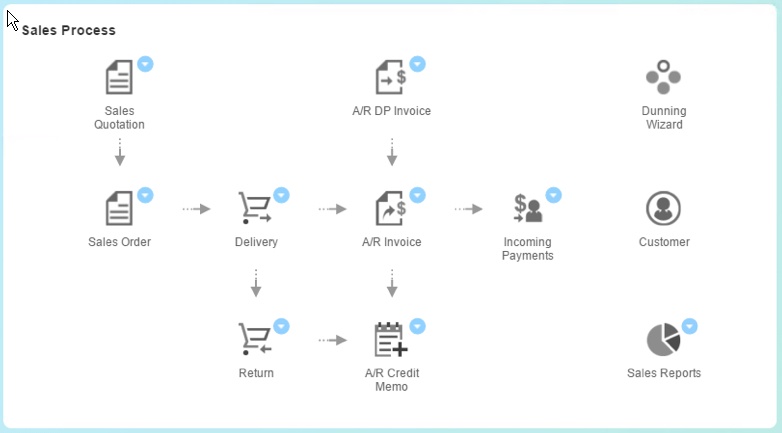 Screenshot by Richard Duffy
Options for Managing Delivery
With SAP Business One, you have two different options for managing the delivery steps once an order has been placed by a customer.
The first option is to use the standard process flow:
Enter the order
Generate the delivery
Produce the invoice
Along the way you can use various wizards and reports to monitor and manage the process; however, you bypass the picking process managed by the software.
The second, and more powerful, option is delivered by the Pick and Pack Manager, found in the Inventory module. This delivers a more granular process for managing the release of sales orders to the picking cycle, and then through that picking cycle, you can manage these processes via the Pick List Generation Wizard.
From the wizard, you can then apply the business rules and structure that you need to make sure that the right customer gets the right product with the right priority.
By using the Pick and Pack Manager, the complexities that arise in a higher-volume, inventory-based business are easier to handle and the chances of errors in the process are significantly reduced, and that makes for happier customers, happier delivery drivers, and a lower cost of operations.
You can see the Pick and Pack Manager in action in the video below; this is part of our ONE.Source 15-minute Fundamentals video series on basic training for SAP Business One. Videos like these will be a regular part of our 2018 curriculum and monthly themes.
Additionally, consider these two tips:
Remember that if you are on SAP Business One 9.2 or higher, your ability to adapt your business processes is even better; use the User Defined Fields that you have created for your marketing documents in the Selection Criteria for the Pick and Pack Manager.
You can still push a sales order into a pick list without using the full Pick and Pack Manager process. If you have available stock on all the line items, right-click and select Generate Pick List, and you are ready to go.
More Logistics Tips and Resources
If you have been following our ONE.Source activity feed, you know that we are fans of the SAP Business One Tip of the Week blog series from SAP's Ari Schapira. These weekly posts on LinkedIn have some additional points that you may find helpful; I have selected a couple to get you started:
You can, of course, follow Ari on LinkedIn to see new posts each week, and we'll also share them in our ONE.Source community forum to help bring them to your attention and make them easy to find. And as always, we encourage you to ask your questions, start a discussion, or check out all our previous content on logistics and many other topics within SAP Business One.
{{cta('fb3d1f49-3395-440a-af41-10d28c7b62e6','justifycenter')}}